Description
What makes Multifile so unique?
Multifile not only offers storage space with a small footprint, but provides many other advantages. Each of Multifile's levels is individually rotatable and completely independent. Another special feature is that each level of the Multifile can be custom adjusted. It is very easy to adjust the height of the individual levels to the objects to be stored. The wide range of accessories allows Multifile to meet individual needs. With a diameter of 80 cm, Multifile is perfect for saving space. The optional castors and add-on levels give Multifile maximum flexibility.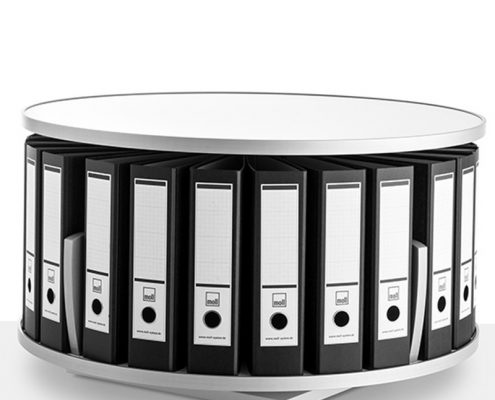 For order in the workplace
The table unit is an excellent system for keeping the workplace neat. Its rotatable levels allow folders to be accessed from several sides. This makes the table unit especially good for use in offices. The cover always stays stiff, so that objects stored on the table unit can't fall. The diameter is 80 cm. The stored objects can be up to 37 cm high.
For changing space conditions
Because available space can change over time, levels can be added or removed from Multifile at any time. If desired, up to six levels can be put together. Each level can hold up to 90 kg.
1 level                 43 cm
2 levels               87 cm
3 levels             124 cm
4 levels             159 cm
5 levels             195 cm
6 levels             231 cm
Made in Germany – 5 Year warranty
**The multifile is a special order item from moll. We have shipments currently every 2 months, lead time therefore is between 12-16weeks. Multifile is not stocked in Australia at present with any retailer/distributor.**